Hi all, recently there is not much interesting news about aging research and labs in Harvard med school will be closed for the next few months. Hope everyone stays safe!
Recently I'm working on a project about the COVID19, data is unpublished so I can't talk too much here but we found that the ACE2, the receptor that virus used to get into the cell, is strongly (oddly) associate with lifespan. And old people actually have more ACE2 in the liver and kidney. Also, based on data from Sinclair lab, virus infection alone (even though the virus they are using actually doing no malignant things but just expressing the fluorescent protein GFP), can increase the biological age of the cell (here it is not significant, but I bet it will be with larger sample size).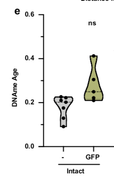 So altogether, this virus is very dangerous to old people. Not very deadly to young people but MIGHT still accelerate the aging process in young people after getting it. Take care!